Alex Lawton Interview by Tyron Drew
Alex Lawton in my eyes and many others is one of the most respected skateboarders in Australia.
Originally from Queensland, he now resides in Melbourne - Victoria. Although he has been around and ripping for years, in the last few year's he has really made a name for himself.
Going on trips around the world with the likes of Evan Smith, Wes Kremer, Mason Silva, and the list goes on. Alex has travelled with brands such as Element, DC Shoes, and Independent Trucks to film for personal video parts and other tour videos.
He has also filmed a web part for Transworld Skateboarding Magazine back in 2017 which is a huge achievement given the history of Transworld's output on all levels.
Finally, not to forget, he won Slam Skater Of The Year in 2018 after turning pro for Element, putting out multiple video parts and magazine covers all in one year.
Without further ado, here is an interview with Alex Lawton from the 20th of July, 2020. Sit back and enjoy as I pick his brain about what he's been up to lately, being a dad, an exciting new project, his travel's, and much more!
What's been happening in the last few weeks and what's your lockdown situation?
The last few week's daily routine has pretty much been: Wake up and hang with little man, hit the dog park, come home and hang with the little man again then either go for a bike ride or try to have a little iso skate - come home and hang with the fam some more and try to keep ourselves busy and entertained, make dinner, put little man to bed and finally crack a cold one. I'm trying to be responsible but sometimes the cold ones get cracked a little earlier.
Sounds like your keeping busy mate, that's good.
Hahaha, you've got to treat yourself sometimes.
How is being in lockdown with a young son? It sounds like it would be fun from the outside but could get a little challenging at times.
It definitely has it's up's and down's - but more ups! He's so crazy. We've just got to keep him busy as much as possible, he's always on the move and getting up to something. It keeps you on your toes for sure. I bought him a little golf set so I'm training a little Tiger (Woods) in the making, but not as successful.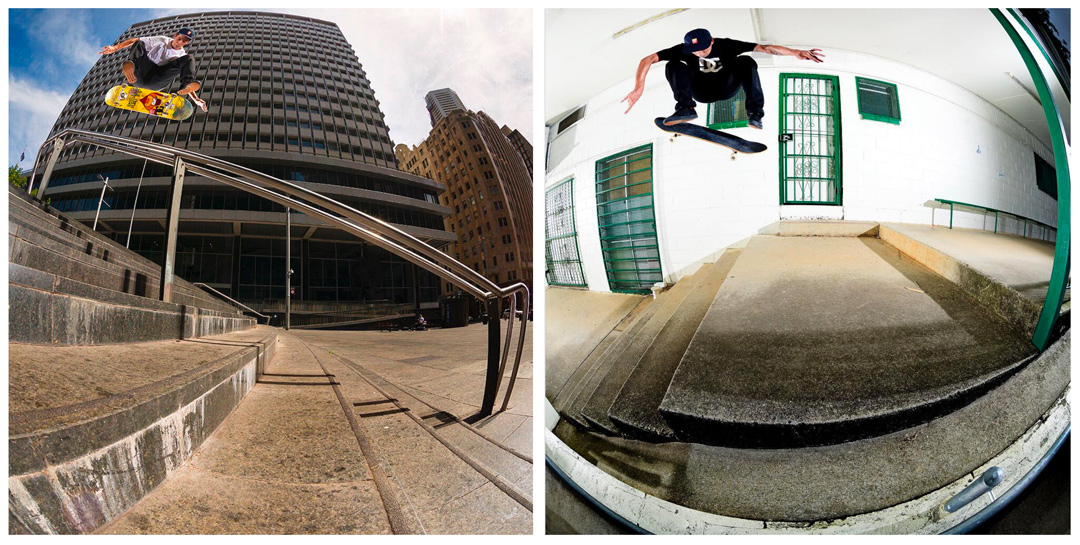 Nollie Heel - Dave Chami Fakie Flip - Jake Darwen
Sick, your grooming another successful Lawton haha.
What state/city/suburb are you living in at the moment?
Victoria - Melbourne - Elsternwick
Any favourite skate parks in the area?
The local Elsternwick park is fun but I don't really have a favourite. I prefer the streets.
What about any favourite street spots to skate for fun or to film a trick for a video part?
There's a really solid manual pad down the road in this plaza that I've filmed a couple of things for fun and for some projects. I suck at manuals so it's a love-hate game.
And my OG favourite was the St Kilda ledge's but it's a little busy with foot traffic so it can be hit or miss.
Yeah, I remember a few tricks you posted to Instagram a little while back on the manual pad. What were they?
The brain has gone.....
There's been a few solid sessions there but my favourite one was back when Sluggy (James James)and I filmed my riding shotguns for the skateboarder's journal.
Oh yes! That clip was sick!
What projects are you working on at the moment? Any video parts/magazine stuff or anything outside of skateboarding?
At the moment I'm just working on a little something with the homies, hopefully, it comes out at the end of the year. I've been doing a lot of the design side of things which is keeping me busy. Really looking forward to releasing it for everyone, it will just come along with little clips to showcase it.
Is there anything about it that you can share with us? Is it a video, magazine, or brand or is it too top secret to share?
All I can say is, it's a brand but for now, we'll all have to wait. It's been super exciting to slowly bring it to life though.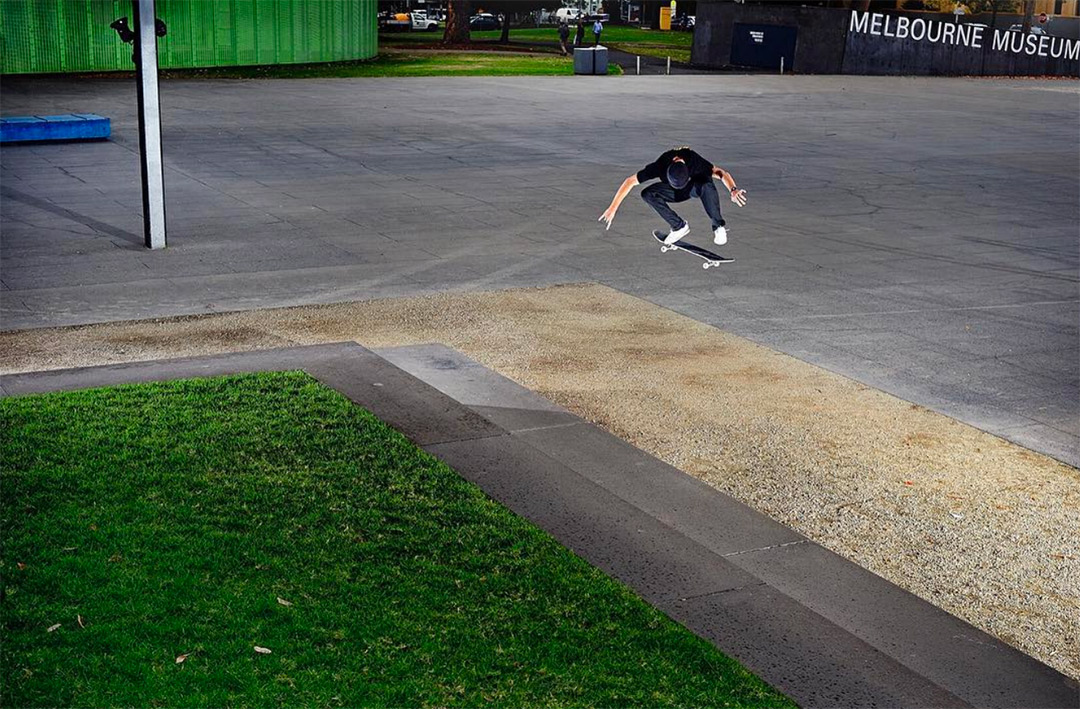 Backside Heelflip - Jake Darwen
That's exciting! Can't wait for it to all unfold.
What's your most memorable skate trip and non-skate trip?
My most memorable skate trip would probably have to be my last trip to Barcelona back in 2016. There was so much that happened in that month-long stay. Getting surprised with my first cover for the skateboarder's journal and also there were a few memorable tricks that I got that I wanted to get on a previous trip but didn't land. That for me was an amazing achievement in my career and one of the tricks being used for my first pro ad. Plus the crew... just everything about it, Barcelona is the best skate city in the world for sure.
Amazing! Any memorable tricks either you or friends did on those trips?
Oh, bro, there was so many! I mean Evan (Smith) for example, probably got like 5 epic tricks a day and Mason (Silva) was on the same level. The most memorable would have been when Dominick Walker did that 50-50 on that crazy kinked rail out the front of the mall and then Nick Garcia board slid it later on. Both were used for their Element parts. That was an insane experience with security and traffic.
I bet that would have been an amazing experience to witness those guys going all in.
Surely you have a funny story for us about Evan (Smith) on that Barcelona trip?
Can't kiss and tell.... got to keep it G rated.
Haha, maybe we'll leave it for the imagination of the people reading then.
My most memorable non-skate trip would be with my partner to Fiji. It was such a great way to unwind after a crazy year of skating and traveling.
Just relaxing the muscles on the beach after smashing your body on skate trips, sounds like the perfect remedy.
So tell us about the mammoth backside heelflip you did over the Melbourne museum gap? What went into it and how many trips back did it take to get it?
That one kind of came out of nowhere. I've always wanted to try and skate it from the top, so (Jake) Darwen & I were talking and came up with a solid plan to shoot it from above which turned out way better then I excepted. The trick itself wasn't actually as bad to try as I imagined. I'm pretty sure the first and only one I stuck was the make.
I got super lucky, even by one wheel.
Well, you're in the hall of fame for tricks done at the museum for that one. Any sketchy slams or injuries from that session?
Nah I got super lucky, I think it was about 10 attempts.
- Jake Darwen
Wow! You're nuts!
What do you think your favourite era of skateboarding is? An era of yourself and an era of pro's that you watched and looked up to?
The late 90s/early 2000s for me, that was pretty much the era I grew up on.
What videos and certain pro's got you hyped back then?
When I started skating I was a huge P-rod (Paul Rodriguez) fan as he was young so it was nice to watch for example his in bloom part is one for the books
There are so many inspirational skaters like Alex Carolino, Flo Marfaing, Eric Koston, and of course from our home country, Dennis Durrant, Lewis Marnell, and the list goes on and on.
Myself, I'm not too sure. It probably has to be when I first started skating as that feeling of learning everything for the first time was unbeatable.
There are some legends in there for sure!
That was such a progressive time for skating.
So do you have any other projects or plans for the near future?
Mainly just getting all this brand stuff sorted then just doing everything that comes along with it. Looking forward to getting the crew together for trips and just having a good time doing it all again.
Can we expect another full part from yourself? The people would love to see it
For sure! I'd love to finish off another part. That drive is still there so yeah in the near future, definitely.
Sick well I know I speak for everyone when I say it would be a delight to see another part from you.
What's one positive thing you would like to see in the skateboarding industry and one thing in the world in general?
No more COVID, haha.
That's fair, it's really stuck a spanner in the works, hasn't it.
Alright mate that's about it, is there anyone you would like to thank?
Tell your friends and family you love them and thank you to Fast Times for helping me through this tough era! Much love!
Gonna go slap some curbs now.